RECIPE - Zucchini & Corn Fritters
The best meals are quick meals. No one likes to spend hours slaving over the stove and this recipe is sure to satisfy those short on time as well as the hungry bellies waiting to be fed.
These delicious little fritters are bursting with natural flavour and are a great source of dietary fibre, vitamins, and minerals. The Quinoa flour used to bind the mixture gives them a uniquely nutty flavour and is ideal for those avoiding gluten in their diet.
2 cups grated Zucchini
2 Corn Cobs (raw), kernels sliced off the cob
2 tablespoons Quinoa Flour
2 Eggs
1 level teaspoon Curry Powder
Salt and Pepper
Optional:  Chopped Coriander
Combine all dry ingredients in a bowl and then add eggs and mix well.
Drop large spoonsful of mixture into a hot non-stick pan, flatten slightly with spatula and cook until golden brown on both sides.
These fritters are lovely hot or cold, but even more delicious with a dollop of yogurt and mango relish.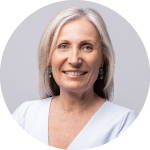 Mona Hecke is a degree qualified Naturopath, nutrition specialist and health and wellness writer.
With over 20 years in the health industry, beginning with a focus on children and families, and a bestselling book 'The Lunchbox Revolution', Mona is now empowering women through education and conversation to take action and embrace change. Gut health, mindfulness, nutrition, hormones, and menopause are the topics that women want and need to know to create their healthy future.
Mona holds certifications in Lifestyle Coaching, Kinesiology, holistic herbal medicine, and nutrition.
A recognised leader in the health industry, Mona's strong social media presence and passion for influencing change will continue to be a catalyst for health reform for the benefit of every Australian.