Men and Menopause
TALK TO YOUR PARTNER ABOUT MENOPAUSE.
You talk amongst your friends and relatives about your personal medical issues but become shy about having those same discussions with your partner.
We can agree though that the same goes for our fellas. They are reticent discussing their health issues too. Men are notorious for not wanting to go to the doctor.
You are each one half of the relationship.
Does your partner even understand what menopause is? Guaranteed he doesn't and you are going to have to educate him. This doesn't mean reverting to your childhood memories when your mum gave you a sex book to read. Delicate conversation was embarrassing. It still is, but you will have to conquer your immodesty and absolutely have face-to-face discussions.
Even if your symptoms are not severe, you need to make him aware of what the worst scenario can be. This may help him to be sympathetic to one of your friends that could be having a bad time of it.
3 topics to open the conversation with your loved one.
Explain how difficult menopause is. It is a hard time for women but even harder for men to love them through the change. Be honest and vulnerable about your body changing physically and mentally. For a full insight your partner must know everything.
Give your partner a science lesson in hormones, so he understands how the oestrogen imbalance impacts.
Let your partner know that you are still attracted to him, even though your vagina feels like sandpaper when having sex. You are not fending off his advances and need lubricant from hereon in, so sex doesn't hurt. Your reluctance to be close to him when drenched in night sweats needs a high level of compassion by your partner, so they do not feel rejected.
Communication is the key to keeping a lasting relationship. You don't want to blind side your partner with a Mrs Hyde when he has been used to living with Mrs Jekyll. Yes, your partner will be uncomfortable, but understanding is essential. Otherwise, you are setting yourself up for a lot of heartbreak. The relationship is going to require patience, awareness, tolerance, and fortitude. Over 50's dominate divorce statistics. Don't be a statistic. Embrace intimacy.
Rod Stewart suggested there should be classes for partners, as his wife Penny had a very bad experience with menopause symptoms. Penny helped promote a Netflix documentary titled Period: End of Sentence, evaluating the menopause and period stigma.
Help is at hand though. With the new Menopause Collection, Natures Help specialises in products for menopause symptoms.
Check the full range on the website. www.natureshelp.com.au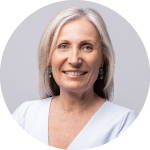 Mona Hecke is a degree qualified Naturopath, nutrition specialist and health and wellness writer.
With over 20 years in the health industry, beginning with a focus on children and families, and a bestselling book 'The Lunchbox Revolution', Mona is now empowering women through education and conversation to take action and embrace change. Gut health, mindfulness, nutrition, hormones, and menopause are the topics that women want and need to know to create their healthy future.
Mona holds certifications in Lifestyle Coaching, Kinesiology, holistic herbal medicine, and nutrition.
A recognised leader in the health industry, Mona's strong social media presence and passion for influencing change will continue to be a catalyst for health reform for the benefit of every Australian.