Let Travel Be The Only Bug You Catch!
With the easing of restrictions globally, it's time to explore the world again!  And although things may not be exactly how they were before, there are precautions you can take to make sure you stay healthy on your adventures.
The most important thing you can do is to keep your immune system strong to combat any opportunistic virus that may come across your travel path.
There is a lot of research to support Vitamin D and its overwhelming evidence to help fight off infection and autoimmune disease. The research suggests that vitamin D regulates the activity of immune cells. It's more than just a nutrient, it's a hormone with receptors in nearly every cell and tissue of the body. Research has correlated Vitamin D levels with over 53 different disease states including Alzheimer's, cancer, MS, osteoporosis, diabetes, depression and Covid 19.
Vitamin D also acts as an anti-inflammatory in response to foreign pathogens, hence why this is such an important nutrient to take during the winter months, and when travelling to different countries through seasonal changes.  You may not need as much when the sun is shining because you can absorb some vitamin D from sun exposure, but make sure to top up when visiting cooler climates and extended visits in winter conditions.
HOW CAN I HELP MY IMMUNE SYSTEM?
Immune supporting nutrients don't stop there. Combinations of potent ingredients can enhance your body's natural immune fighting properties. These include;
QUERCETIN – antioxidant, anti-inflammatory and anti-allergic, reduces frequency of cold and flu
VITAMIN A – essential for healthy cell replication, white blood cell production to support immunity
VITAMIN C – necessary for growth, development and repair of all body tissues, potent antioxidant
ZINC – modulates antiviral and antibacterial activity, reduces inflammation, hastens wound healing
SELENIUM – vital trace mineral for metabolic health DNA synthesis and maintaining thyroid health
GINGER – anti-inflammatory and improves circulation, digestion, relieves symptoms of fever, cold and flu
IVY LEAF – relief from respiratory symptoms, chesty coughs, and mucous production, improves lung function
We've taken the guess work out of taking multiple products and combined these natural ingredients in one easy to take capsule to keep you well right through winter and beyond.  Viraguard is the perfect travel companion, taken daily for maintenance and increased in times of need.
HOW TO CALM A NERVOUS FLYER?
If you love travel but a nervous stomach and some anxiety takes away some of your joy, then don't forget to support your nervous system too.  Soothing herbs can relieve the stress and overwhelm of shifting time zones, while supporting healthy emotions, mood and encourage restful sleep.
Travelling to other cultures and exploring new lands should be a happy and wonderous time, without the worry of falling sick and being unable to continue your holiday. Whether you are travelling domestically or internationally, spend more time embracing your adventurous spirit in the confidence that nature has you covered.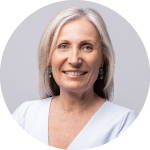 Mona Hecke is a degree qualified Naturopath, nutrition specialist and health and wellness writer.
With over 20 years in the health industry, beginning with a focus on children and families, and a bestselling book 'The Lunchbox Revolution', Mona is now empowering women through education and conversation to take action and embrace change. Gut health, mindfulness, nutrition, hormones, and menopause are the topics that women want and need to know to create their healthy future.
Mona holds certifications in Lifestyle Coaching, Kinesiology, holistic herbal medicine, and nutrition.
A recognised leader in the health industry, Mona's strong social media presence and passion for influencing change will continue to be a catalyst for health reform for the benefit of every Australian.