Menopause and sex - PART 3
And here we are, part three of our three-part article series where we're discussing a topic many people may consider taboo; menopause and sex!
Both menopause and sex are becoming more openly discussed and portrayed in the media; however, they are rarely discussed together.
Part one of this series was about how menopause affects sex drive and desire; you can find it here. Part two covered ways to spice up your sex life which can be found here. Part three is a little different as it's actually for our partners. Today we will be sharing insights into enjoying an active sex life during and after the change.
Many people don't prepare, anticipate, or plan for the changes that come with menopause, but it doesn't have to be scary, uncomfortable, lonely or boring. Sex and intimacy are often two areas that get neglected during this phase due to several biological, physical and emotional symptoms that many women experience. But, another person may also be experiencing the effects of these menopausal symptoms – your partner.
If your partner is a woman, you have an advantage, as chances are, she will know and understand what you're experiencing. However, if your partner is a man, spare him a thought because he probably has little knowledge of what's going on or how he can support you during this phase.
This is a situation where open and honest communication could potentially save and even enhance your relationship. Discussing the changes you're experiencing will be vital in connecting with your partner during this time. This could include researching to understand better how you can both adapt to the changes happening.
Here are ten supportive things partners can do to reduce pressure, anxiety, frustration and confusion during this phase.
Get educated, so you understand the changes your partner is experiencing, both physical and emotional.
Encourage her to share how she feels, what she is experiencing and how she would like you to support her.
Be compassionate to the rollercoaster ride so many of us experience.
Don't be judgemental of our changing bodies, behaviour or moods.
Be open to trying new things.
Share your feelings, so no one is undervalued or ignored.
Celebrate her changing body and boost her self-esteem.
Stop comparing things to the past or others experiences.
Deepen your intimacy but connecting in different ways.
Be open and honest with yourself, your partner and seek professional support if needed.
During this phase, many women experience a significant reduction in sex drive, with some women reporting discomfort and even pain during sex. Combined with the fluctuations of hormones which can lead to mood swings, anxiety, and even depression. Sexual engagement can be tricky to navigate. A woman's sex drive is intricately tied to her emotional well-being, so ensuring she feels encouraged and supported during this phase is imperative.
There is considerable evidence that couples can continue having a great sex life after menopause. So this can be an excellent opportunity to deepen your intimacy and spend some quality time finding new ways to keep the passion alive.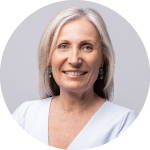 Mona Hecke is a degree qualified Naturopath, nutrition specialist and health and wellness writer.
With over 20 years in the health industry, beginning with a focus on children and families, and a bestselling book 'The Lunchbox Revolution', Mona is now empowering women through education and conversation to take action and embrace change. Gut health, mindfulness, nutrition, hormones, and menopause are the topics that women want and need to know to create their healthy future.
Mona holds certifications in Lifestyle Coaching, Kinesiology, holistic herbal medicine, and nutrition.
A recognised leader in the health industry, Mona's strong social media presence and passion for influencing change will continue to be a catalyst for health reform for the benefit of every Australian.