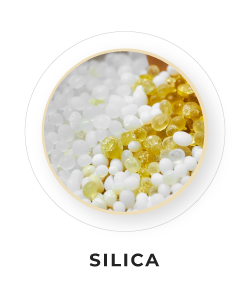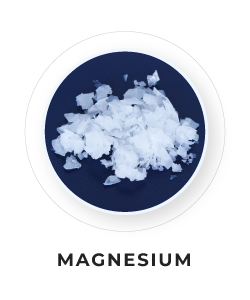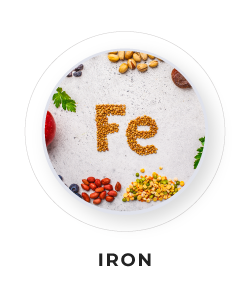 GUTSY - PINEAPPLE FLAVOUR
100% DIATOMACEUS EARTH - FOSIL SHELL FLOUR
It is well documented now that 70% of our immune system is located in our gut and the diverse bacteria that thrives there. The easiest and tastiest way to improve your gut health is by improving your diet, increasing your plant food intake and eating seasonally.
Sometimes our gut health needs a reset, especially if you suffer with digestive disorders, bloating and allergies. That's where Gutsy comes in, it's unique mineral profile helps to clear your digestive tract of built up mucous, old faecal matter, bad bacteria, fungi and heavy metals. It does this by drawing water into the bowel and sweeping these unfriendly visitors out through your daily toilet habits.
Silica is the main ingredient of Gutsy Diatomaceous Earth powder and has many other benefits too, including;
• Healthier looking hair, skin, and nails.
• Improves functionality of the liver and colon
• Increases nutrient and mineral absorption and hydration levels
• Reduces gas and bloating
• Helps improve energy levels
• Promotes regular bowel movements.
To experience the full cleansing effects of Gutsy, try taking it 10 days on and 10 days off for three months. Ensure you are increasing your hydration levels for a safe and efficient detoxification.
Initially, as your gut environment changes and the detoxification pathways are activated, you may experience some mild side effects like headaches and fatigue. This is perfectly normal as yeast and other foreign matter dies off and your body releases the toxins.  
Depending on your underlying health conditions, changes will occur at different times, however once the cleansing effect begins, most people enjoy a better sense of well being, reduced bloating, better sleep, clearer skin, improved toilet habits and a stronger immune system that can now get on with helping you achieve optimal health.
It is advised to take a quality probiotic supplement to support the reinoculation of good bacteria in the gut once elimination and absorption pathways have been improved.
Gutsy is a food, not a medication, and therefore perfectly safe to consume for the general population.  
WHAT'S IN IT AND WHAT DOES IT DO?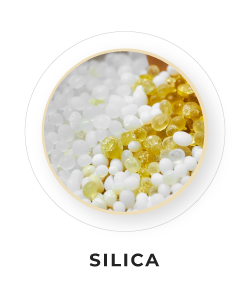 Diatomaceous Earth is a powder made from the deposit of fossilised aquatic organisms found in water sources all over the world. The fossils produce dry sediment high in silica that easily crumble to a powder. Silica is the most plentiful element on earth and a key component to skin, bones, tendons, ligaments, and cartilage. Even the liver, heart, lungs, and blood contain silica. It is especially beneficial for helping the digestive tract to eliminate heavy metals and other foreign matter. Diatomaceous Earth is rich in diverse minerals.
Calcium is vital for healthy teeth and bones and is also important for the health and function of nerve and muscle tissue. For ladies experiencing menopause, a drop in estrogen levels can directly impact our bone density when calcium absorption is impacted by hormonal changes, which can lead to osteoporosis. Research suggests that one in two women over the age of 60 years will experience at least one fracture due to osteoporosis, so increasing our intake of calcium in a healthy food grade supplement like diatomaceous earth is cruicial.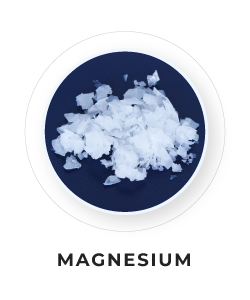 Magnesium is present in every human organ and is considered a vital mineral for over 300 biochemical reactions in our body that regulate our health and wellness. Magnesium has many benefits including muscle relaxation, bruise control, anxiety relief, reducing fatigue, and improving joint mobility and repair. Magnesium also has positive effects on the nervous system by supporting relaxation and improved sleep. The heart muscle requires magnesium with calcium to relax and contract efficiently and supports cardiovascular health.
Zinc is a mineral essential for many of the body's normal functions, including the immune system, wound healing, blood clotting, thyroid function and our taste of sense and smell. Zinc also supports normal growth through all stages of life. It is regarded as an antioxidant and has anti inflammatory properties that promote healthy metabolic function. Zinc preserves the natural tissue barrier of respiratory endothelial cells and is crucial to prevent pathogen entry from the common cold and flu virus in the redox signalling network.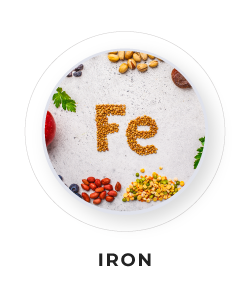 Iron is a mineral the body needs for growth and development. It helps to preserve many vital functions including general energy and focus, gastrointestinal processes, the immune system and regulation of body temperature. Your body uses iron to make haemoglobin which represents about two-thirds of the body's iron, contributing to growth and development. A lack of haemoglobin will result in low oxygen carrying red blood cells and manifest in low energy and fatigue. The benefits of iron often go unnoticed until a person is not getting enough.

Australian Owned and Operated












Friendly Customer Service



WHY WOMEN TRUST NATURE'S HELP OVER OTHER BRANDS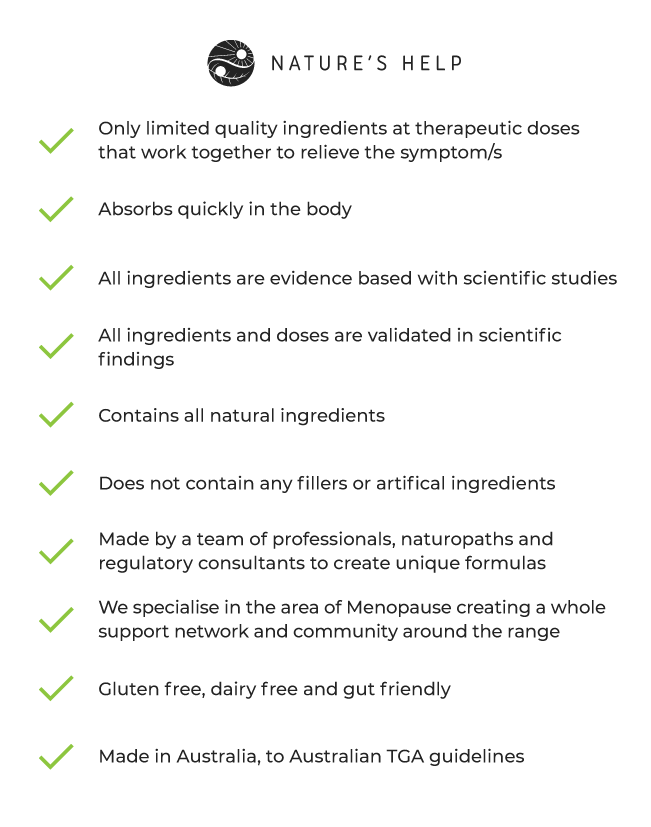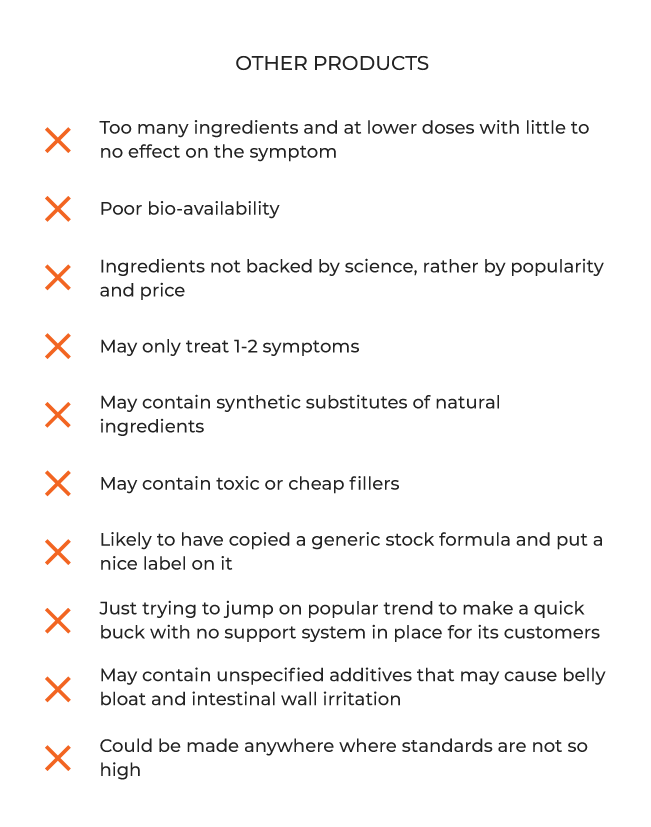 Begin with ½ to one teaspoon per day working up to 1 tablespoon in a glass of water, juice, smoothie, your morning porridge or yogurt.
What age can I take Gutsy?
If you are over the age of 12 years old you can take this product.
Do I need to refriegerate this product?
Refrigeration is not required. We recommend to keep it in a cool dry place
What are the ingredients in this formula?
• Amorphous Silica: 89 – 95%
• Calcium: 0.407%
• Iron: 0.25%
• Potassium: 0.107%
• Magnesium: 0.138%
• Phosphorus: 0.00937
• Silicon: 0.342
• Zinc: 0.000754
• Plus, other Trace minerals
DOES NOT CONTAIN:
any additives, preservatives, fillers, sugars or artificial sweeteners.
Can I taste any of the ingredients?
Gutsy is a fine fossil shell flour that has no flavour and ideal added to water or in your favourite smoothie.
Where are your products made?
All Nature's Help products are proudly made in certified facilities right here in Australia.