Top 50 Foods Healthy Women Eat
There are many reasons women need to take notice of what they eat because there are several risk factors that make women more vulnerable to disease than men.
Making sure you include superfoods every day can improve your immune system, lower cholesterol, promote weight loss, improve digestion, maintain healthy hair, skin and nails and sustained energy for life.
As women age, we need to reassess the foods that fuel us and the foods that slow us down. Our metabolism changes and our eating habits need to change with it.  Menopause can cause all sorts of unwanted issues and one of the biggest is weight gain.  Understanding how foods play a role in that can be a game changer and a blessing. We don't need to consume as much as we used to, but it definitely needs to be quality over quantity.
Consuming energy rich food will turn your body into a fat fighting machine and even help you burn fat while you sleep. Combined with the right, regular movement, you can become master of your destiny! 
Every choice you make will take you one step closer to living the healthy life you dream of and healthy weight you long for. Begin with making a commitment to yourself, setting a goal and taking small steps to work towards it.
Take this list with you when shopping to ensure you buy the best quality ingredients that offer the best value for  health and longevity.  Better still, source seasonal produce from farmers markets and organic butchers.  Supermarkets are so last year; you don't even need to go there for toilet paper anymore!
Proteins are made up of amino acids, the building blocks required to build and repair muscle, cartlidge, skin and bone, make hormones, maintain enzymes and supply an energy source.  Eating protein helps maintain a healthy weight and curb hunger cravings too, so they help keep us full while fuelling our cells with the right nutrients. Always try to source organic meats and seafood.
GRASS FED BEEF
ORGANIC CHICKEN
SALMON
EGGS
SARDINES
TOFU
TEMPEH
LENTILS
BEANS
NUTS
Fruit is considered nature's dessert, perfectly packaged sweet delights packed with vitamins, minerals, antioxidants, and fibre. Including quality fruit every day can reduce your risk of developing inflammation, diabetes, heart disease and cancer. With minimal preparation and maximum nutrition, there is every reason to eat fruit every day!
BLUEBERRIES
POMEGRANATE
PAPAYA
APPLES
PINEAPPLE
BANANAS
LEMONS
AVOCADO
RASPBERRIES
ORANGES
Vegetables are rich in critical minerals, vitamins and fibre that protect against illness like heart disease, stroke and cancer. They are the perfect low-calorie snack and ideal for women who are looking to shed a couple of kilos or maintain a healthy weight.   Every meal should begin with vegetables for diversity of nutrients and flavour.
BROCCOLI
SWEET POTATO
SPINACH
TOMATOES
BRUSSEL SPROUTS
PUMPIN
MUSHROOMS
RED CAPSICUM
PEAS
EDAMAME
Quality fats are an important part of every diet. Fat is a major source of energy and vital for building cell membranes, keeping cholesterol under control, hormone function, memory and reducing your risk of heart disease and stroke.  The best fats in small doses are monounsaturated and polyunsaturated fats which help keep you feeling full, add flavour to meals and stop you from overeating or indulging in unnecessary calories from less desirable foods.
OLIVE OIL
COCONUT OIL
FLAXSEED OIL
HEMP OIL
AVOCADO
PEANUT BUTTER
YOGHURT
OLIVES
FATTY FISH
SEEDS & NUTS
The benefit of superfoods is that you are getting a higher percentage of nutritional value for your money.  These powerhouses have high vitamin and mineral content that ward off disease and keep you healthier.  When consumed on a regular basis, these foods can promote heart health, weight loss, improve energy levels and even reduce the effects of ageing. That's good enough reason to eat them every day!
CHIA SEEDS
TURMERIC
FLAXSEED
GARLIC
GREEN TEA
BROCCOLI
ONIONS
SEAWEED
HEMP SEEDS
QUINOA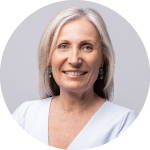 Mona Hecke is a degree qualified Naturopath, nutrition specialist and health and wellness writer.
With over 20 years in the health industry, beginning with a focus on children and families, and a bestselling book 'The Lunchbox Revolution', Mona is now empowering women through education and conversation to take action and embrace change. Gut health, mindfulness, nutrition, hormones, and menopause are the topics that women want and need to know to create their healthy future.
Mona holds certifications in Lifestyle Coaching, Kinesiology, holistic herbal medicine, and nutrition.
A recognised leader in the health industry, Mona's strong social media presence and passion for influencing change will continue to be a catalyst for health reform for the benefit of every Australian.