Turmeric Capsules 360 Plus Vit. D3+K2
Relieves symptoms of arthritis
Relief of mild rheumatic pain
Digestive and liver function support
Anti-inflammatory
Bone and heart health
Mood enhancer
3 Months Supply
VALUE BUY PACK: 3 x TURMERIC CAPSULES + 2 x VITAMINS D3+K2
Have you read our 40 things that happen to you after 40 list? It's enough to make you want to trade in your body and life and start all over again. Before you despair, think about this – Turning 40 is actually a prime time for women. We have that newfound confidence that only lived experiences can provide… it just comes with a lived-in body that we need to look after a bit more.

My Belly Health is here to help, giving you the strong foundation of a healthy gut upon which so many other ageing well factors are built. Gutsy will clean the nasties out of your digestive tract using the natural silica in fossil shell flour – you can view the full list of Gutsy ingredients here.
Our Marine Collagen Peptides Plus then helps your immune system along while also stimulating elastic production for healthy skin – what's not to love? You can read the full list of ingredients here, including how Vitamin C turbocharges this combination.
And finally, Turmeric, one of the best-known nutritional superfoods on the planet, enhances the hard work of its pack partners by improving metabolic function and circulation. You can read about the ingredients here, including the natural digestive powers of black pepper and ginger.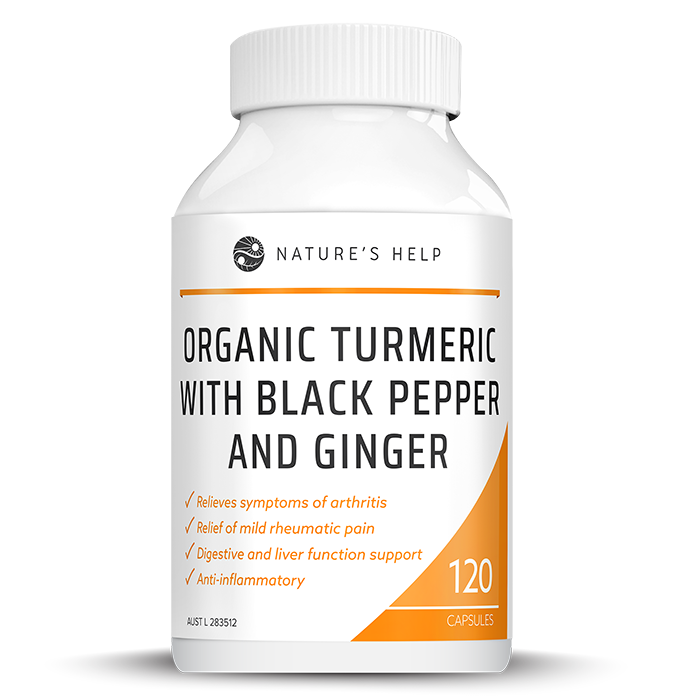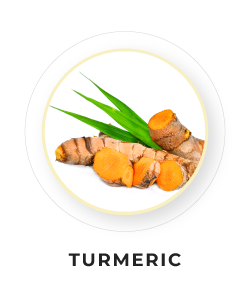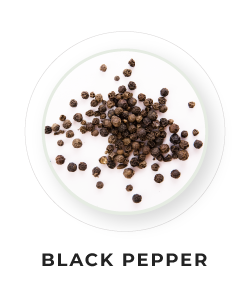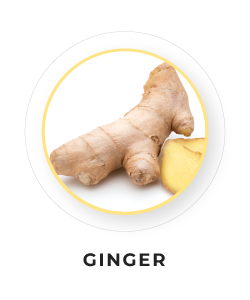 WHAT'S IN IT AND WHAT DOES IT DO?
Turmeric comes from the root (rhizome) of a flowering plant of the ginger family, namely the Curcuma Longa plant. Turmeric is bursting with active ingredients, the main one being curcumin, which has powerful antioxidant and anti-inflammatory effects and is responsible for turmeric's vibrant orange colour. Turmeric has powerful natural anti-viral and anti-bacterial properties and is known around the world as the perfect supplement for all round general well-being and maintaining healthy digestion.
Ginger is botanically related to turmeric and shares many of its nutritional properties. It is a wonderful digestive aid as it has a calming effect on the intestines which helps relieve gas, bloating and acid reflux, while also allowing the gut to absorb more nutrients from food.
Black Pepper is a natural digestive aid and contains piperine, which has been shown to significantly boost bio-availability – the amount of nutrients, such as curcumin in turmeric, that are absorbed by the body.
You can read the full list of ingredients here.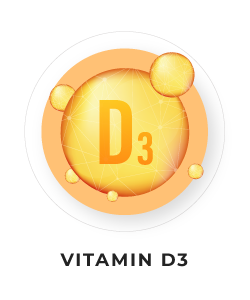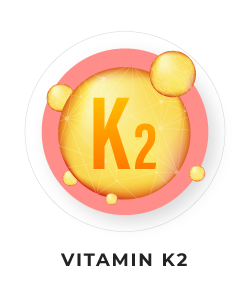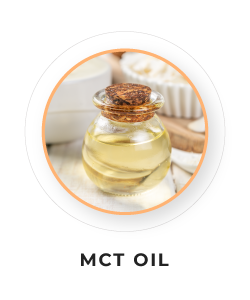 WHAT'S IN IT AND WHAT DOES IT DO?
K2 + D3 = Perfect Pair. One of the main functions of Vitamin D is to help your body absorb calcium and metabolise it from the foods that you eat. Vitamin K2 works synergistically with Vitamin D to direct calcium around the body where it needs to be.
You can view the full list of supporting ingredients here.
Put together these two nutrients are also very important when it comes to:
• regulating your blood pressure and protecting you against heart attacks and strokes
• aiding bone strength by reducing bone loss in postmenopausal women
• promoting hormone balance by maintaining healthy levels of oestrogen
• reducing joint inflammation and joint pain
• boosting the immune system by regulating inflammatory cytokines.
Ingredients Per Serve:
VitaminK2 – 180mcg – (180mcg is equal to 0.180mg)
Vitamin D3 – 1000IU – (1000IU is equal to 0.025mg (25mcg))
MCT Oil – 960.50mg



WHY WOMEN TRUST NATURE'S HELP OVER OTHER BRANDS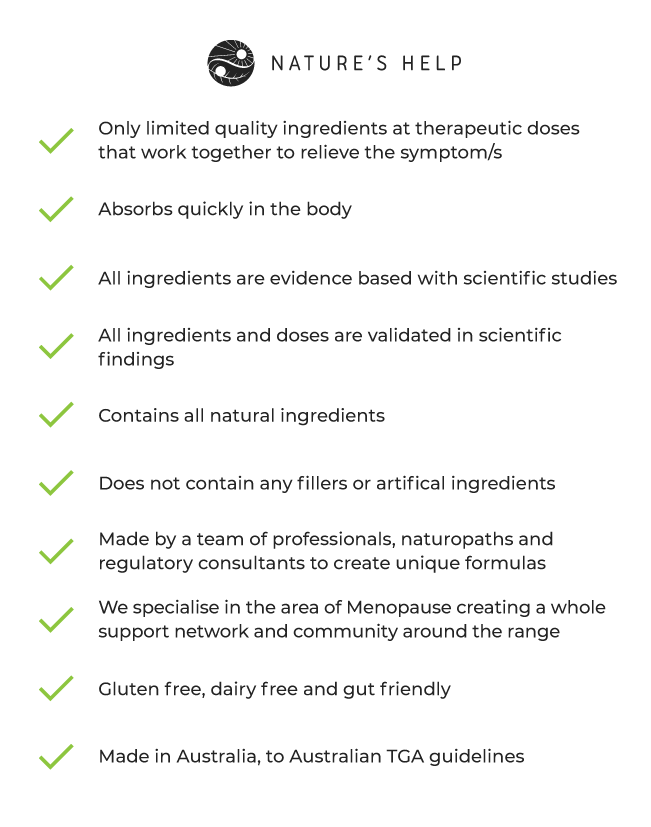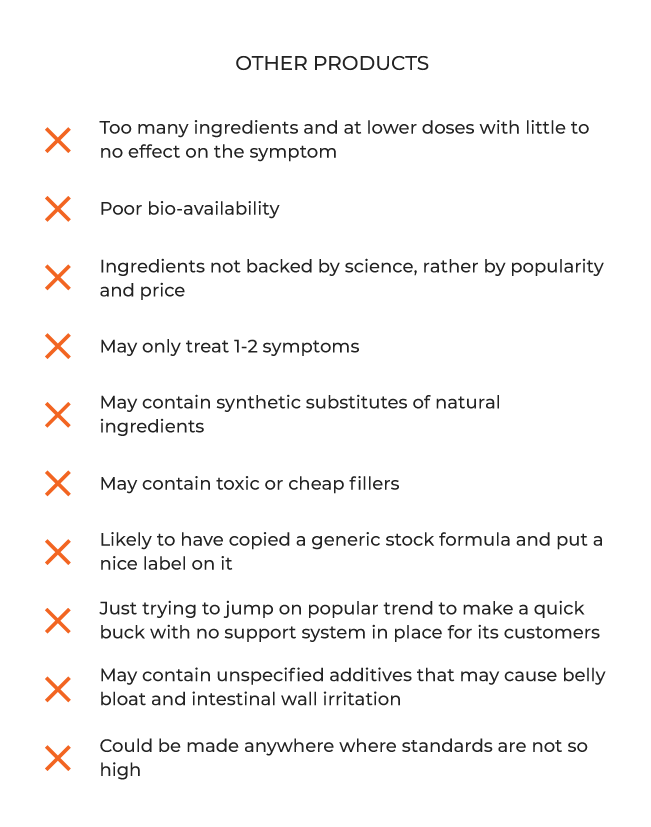 How do I take this product?
TURMERIC CAPSULES:The recommended daily intake is 4 capsules which is equivalent to 1 teaspoon. Consuming a smaller amount than recommended may result in little to no noticeable difference to the ailment or purpose of taking it.
VITAMINS D3+K2: Take 25 drops (1ml) under the tongue or in a small glass of water or juice daily.
What are the ingredients in this formula?
Active ingredients in Turmeric Capsules:
• 680mg Organic Turmeric
• 5mg Organic Piper Nigrum (black pepper)
• 50mg Organic Ginger
Active ingredients in Vitamin D3+K2:
• VitaminK2 – 180mcg – (180mcg is equal to 0.180mg)
• Vitamin D3 – 1000IU – (1000IU is equal to 0.025mg (25mcg))
• MCT Oil – 960.50mg
Does not contain:
Gluten, Wheat, Dairy, Lactose, Soy, Artificial colours, Artificial flavours, Artificial sweeteners, Bee products, Corn, Egg, MSG or any kind of nut. No fillers, additives or preservatives. Capsules are vegetable cellulose origin and are suitable for vegetarians and vegans.
Warning:
Do not exceed the recommended intake.